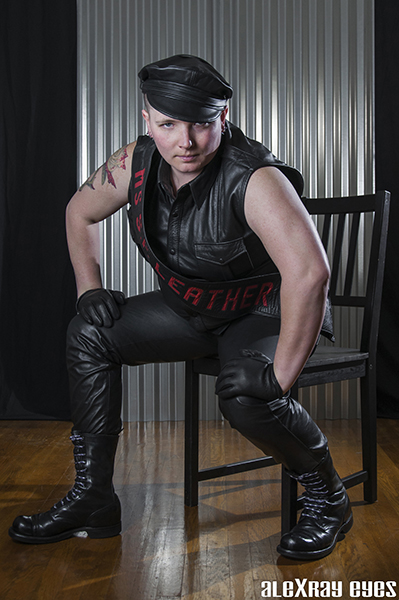 An indecent indulgent diverse verse and a veritably dapper dyke. Haley spent much of her formative years in Sacramento but now stems from the San Francisco Bay Area where she holds the title of Ms. San Francisco Leather 2018. Preferring to teach in a one-on-one setting over large groups you can often find her with a few people either sharing skills or exchanging ideas. Haley often participates in or serves on discussion groups and panels. Some of her favorite things to present on are fireplay, needles, rough body play, and electro.
I strive to do all things with purpose!
I've been to 17 events, and represented my title from Georgia to Utah and all over Texas challenging Leather Women to step up and be visible.

I'm a military brat with a Masters in Engineering and Technology Management from Oklahoma State University. I'm also a registered woman-owned Construction and Design company. 2018 brought me a title that I share with my Mother and a second grandson. It was a very cool year!!
A Deaf Leather woman and Little, Tuesday is the current Ms. California Leather 2018. She is actively involved in her community as she currently serves LALC as the Accessibility Coordinator, LAGOL/WILLA as the current President, San Fernando Valley Pride as ASL/Vendor Coordinator, Threshold as a gatekeeper, and proud to be of service to her Leather family; Master George's Leather Family.

Tuesday biggest values align with inclusion and accessibility within her communities. She actively works hard to reach out and educate while modeling positive resolutions in obtaining accessibility locally, regionally and internationally.